News Archive
I Work From Home, Michelle Grabner's first comprehensive solo museum exhibition, presents her artwork as part of a varied and committed practice that also encompasses critical writing and curating. While these activities are typically separated, and placed in hierarchy, Grabner models a productively holistic approach to creative work. All of Grabner's activities are driven by distinctive values and ideas: working outside of dominant systems, working tirelessly, working across platforms and towards community.
Also, check out Michelle's interview with Mousse Magazine.
Raid the Attic, with Jean Blackburn, Wendy Edwards, Holly Hughes and Randa Newland is opening Tuesday March 19th from 6:30-8:30 at The Cohen Gallery in the Granoff Center at Brown.
Nearly Neutral, a group show featuring works by Dawn Clements and Ryan Mrozowski, and curated by John O'Connor, is on view at The Barbara Walters Gallery at Sarah Lawrence College in Bronxville, NY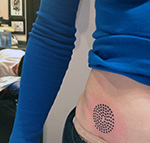 Drive-By Projects artist, Michelle Grabner's solo show is on at the three Shane Campbell Gallery locations:
January 25 – March 2, 2013, Lincoln Park
January 26 – March 9, 2013, Chicago
January 27 – March 3, 2013, Oak Park
Drive-By Projects artist, Michelle Grabner, has been selected as one of three curators for the 2014 Whitney Biennial. Michelle is a professor and the Chairwoman of the painting and drawing department at the School of the Art Institute of Chicago.
Congratulations to Nava Lubelski and Steve Barnard on the birth of their son, Ori Lubelski Barnard.
Congratulations to Carl D'Alvia who has been awarded the Rome Prize Fellowship at the American Academy in Rome!
Congratulations to Carl D'Alvia who has been awarded the Rome Prize Fellowship at the American Academy in Rome!
Ryan Steadman, The Painted Word at Karma, Monday, April 2, 6 – 8pm
The public opening for paperless, featuring work by Nava Lubelski is Friday, April 27 from 7-10pm, at the Southeastern Center for Contemporary Art. Full show dates are April 27 - September 16, 2012.
Portraits was featured in "What's the Essence of a Portrait?," ArtSake.
Joseph Smolinski's work will be featured in four shows:
Invasive Horizon: New Work by Joseph Smolinski and Colin Christy, August 20 - September 23, 2011, at Swarm Gallery, Oakland, CA
1st Alumni Exhibition, September 9 - 28, 2011, at Gallery 101, University of Wisconsin, River Falls, WI
From Here On…, a solo exhibition, November 7, 2011 – January 2, 2012, at Open Gallery, Montgomery College, Baltimore, MD
Solo Exhibition March, 2012, at La Galerie Particuliere, Paris, FR
Nava Lubelski's work will be included in three shows:
Paperwork in 3D, May 15 - October 30, 2011, at Shelburne Museum, Shelburne, VT
Color Study, July 9 - November 6, 2011, at Asheville Art Museum, Asheville, NC
Love Lace, July 30, 2011 - April, 2012, at Powerhouse Museum, Sydney, Australia
Nava Lubelski's work will be included in two group shows:We're Not Here To Waste Time!, March 5 - April 9, 2011, at Luis De Jesus Los Angeles, Santa Monica, CA, and Dis/Order, March 4-April 30, 2011, at Artspace, Raleigh, NC
Art review: 'We're Not Here to Waste Time!' at Luis De Jesus
"We're Not Here to Waste Time"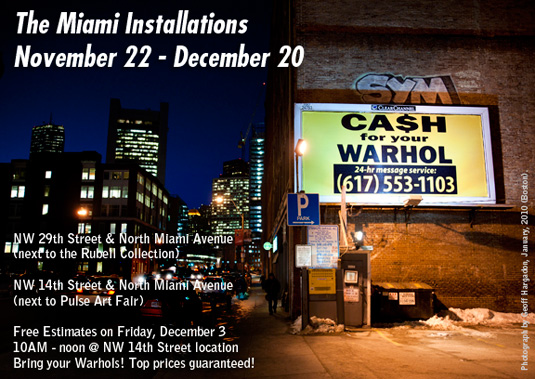 Nava Lubelski will have a solo show entitled Warm for Winter, Cold for Fall, November 24 - December 18, 2010, p/m Gallery, Toronto, Canada. Also, a set of Nava's vintage embroidered napkins is included in Eat Drink Art Design, September 21, 2010-February 27, 2011 at The Museum of Arts and Design, 2 Columbus Circle, New York.
Ben Sloat's work will be included in the following upcoming shows: "Stick My Pop", until October 7th, Omino71, Rome, Italy; "Raising Voices", Daylight Studios, Los Angeles, CA reception, September 25th; "Detritus", Viridian Gallery, New York, NY opening November 20th.
Photographer Geoff Hargadon just returned from a 10 day trip to San Diego where he documented the installation of Viva la Revolución, a city-wide exhibition curated by Pedro Alonzo. Sponsored by the San Diego Museum of Contemporary Art, the exhibition includes the work of 20 internationally recognized artists including, Shepard Fairey, Dr. Lakra, JR, Os Gemeos, Calma, Swoon, David Ellis, Date Farmers, Vhils, and Dzine. For more information go to www.brooklynstreetart.com/theblog.
Ben Sloat has his first European Solo Exhibition, "Package From China", 126 Gallery, Galway Ireland, March 19 - April 10.
Nava Lubelski will be in a Group Show at Luis De Jesus Los Angeles, April 9 - May 15, 2010.
She is also in the exhibition Slash: Paper Under the Knife : Oct 7, 2009 - Apr 4, 2010 : Museum of Arts & Design, New York, NY
David Curcio was mentioned in "2009: The year in Art - Saints, sinners, paint" by Greg Cook, The Boston Phoenix